This page is a list of products, books and other reptile-related things I use on a daily basis. Everything on this page has been used and tested by me!
Animalsathome.ca is a participant in the Amazon Services LLC Associates Program, an affiliate advertising program designed to provide a means for sites to earn advertising fees by advertising and linking to Amazon.com. Content on this site may contain affiliate links. These links take you to third-party sites, such as Amazon.com. If you make a purchase, Animals at Home may receive a small commission at no additional cost to you.
Please note that we have not been given any free products, services or anything else by these companies in exchange for mentioning them on the site
Reminder: A percentage of what I receive in commission is donated to the Amazon Rainforest Conservancy. Click here to read more.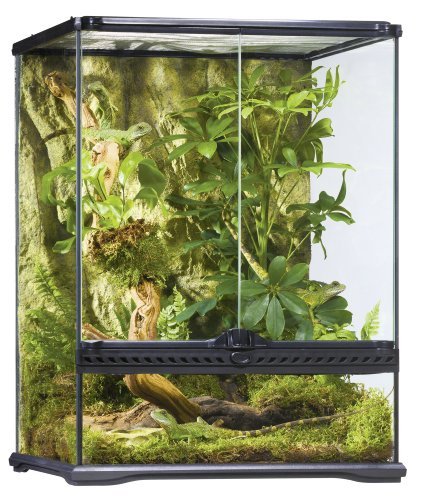 Exo-Terra Terrariums
Currently I am using Exo-Terra terrariums for both my geckos (crested and giant day). For the most part there are great enclosures for geckos and other smaller animals. I have had my crested gecko in the same one for over a decade and everything still functions properly.
PROS:
These enclosures are incredibly easy to use and the double front opening make everything inside easy to access. These enclsoures provide great airflow and have ample vents. And they just look good!
CONS:
They are quite heavy when full of soil, plants etc. If you are in a dry climate you will find these provide to much airflow (tough to keep humidity elevated for tropical species). I use masking tape to seal area's of the top screen to solve this problem.