This page is a list of products, books and other reptile-related things I use on a daily basis. Everything on this page has been used and tested by me!
Animalsathome.ca is a participant in the Amazon Services LLC Associates Program, an affiliate advertising program designed to provide a means for sites to earn advertising fees by advertising and linking to Amazon.com. Content on this site may contain affiliate links. These links take you to third-party sites, such as Amazon.com. If you make a purchase, Animals at Home may receive a small commission at no additional cost to you.
Please note that we have not been given any free products, services or anything else by these companies in exchange for mentioning them on the site
Reminder: A percentage of what I receive in commission is donated to the Amazon Rainforest Conservancy. Click here to read more.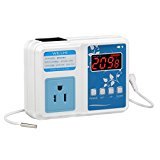 These are the thermostats I use. They are fairly inexpensive and as far as my experience goes, work great! You can't do any sophisticated programming such as night drops, timers, etc. and it is not proportional (meaning it only turns on/off rather than proportionally increasing/decreasing heat output to maintain a consistent temperature) but if you just need a simple thermostat than I highly recommend it.
These thermostats have a very long low profile probe, meaning you don't have to drill a massive hole to get it through a rack wall, etc. The probe is several feet long and is NOT permanently fixed to the controller. It plugs into the controller through an AUX port which is incredibly convenient because for example if you have the probe taped to the bottom of a tub, the controller doesn't have to go with you if you leave the room with the tub for cleaning or something. There is also a loud alarm that goes off if the probe accidentally becomes detached.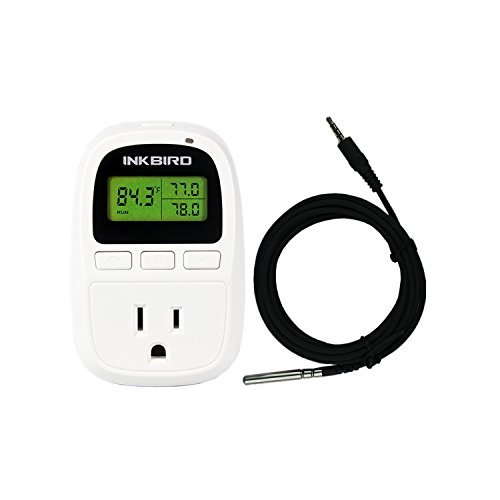 Inkbird Temperature Controller
 I ordered Inkbird Temperature Controller off of Amazon.  It is a good little thermostat so far! Very easy to set up, it was inexpensive and the probe itself is long and detachable which is great! For the video/article on setting up this thermostat, check out my Best Reptile Thermostat article!
My only regret is I just noticed they make a slightly more expensive model that is capable of doing Inkbird Day and Night Thermostat!  Dang I wish I had noticed that before. Next time that will be the one I order! Even if you don't think you'd use a Day/Night setting you never know how your care might change in the future!