This article is a step by step guide to how I used an old china cabinet to create by own DIY chameleon cage. If you are the type of person who likes to listen rather than read you can watch the video below:
DIY Chameleon Cage:
SCROLL TO THE BOTTOM TO FEW THE FINISHED PROJECT!
STEP ONE: FIND A PIECE OF CHEAP FURNITURE!
It is always I good idea to have a particular animal in mind when designing and building an vivarium. Or at least a "class" of animal. I converted this china cabinet initially as a diy chameleon cage project but since it was made with an arboreal species in mind, it also worked for my giant day gecko for a while as well.
So, if you have a species or a "class" of species (arboreal, terrestrial, tropical, arid, etc.), hit the classifieds and start looking for a good piece of furniture! Moving sales are great, normally you can get things fairly cheap.
This exact cabinet below I have seen for sale as high as $350 on the classifieds (although who knows what they actually got for it), I bought mine for $50 because the seller "just wanted it out of the house!"… they also may not have been fully aware of the actual value of the unit. Worked for me. Anyway, of course I went with this unit because of its height (3.5′), it was also about 2 feet wide and 2 feet deep (at its deepest point, it is a corner cabinet).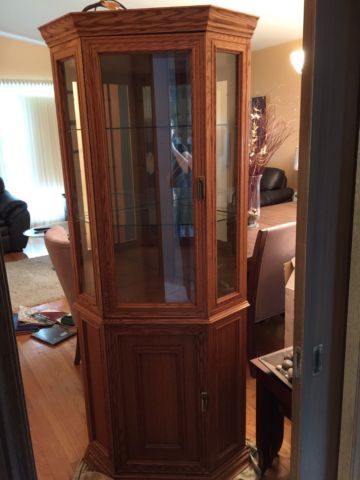 STEP 2: COME UP WITH A PLAN
Once you have your piece of furniture at home, spend some time planning. Some mistakes are forgiving but some are not, especially if you are working with a one-of-a-kind piece of furniture. This vivarium was being converted to a diy chameleon cage, therefore I needed it to:
Have good ventilation
Handle high humidity and mositure
Have proper lighting
Handle live plants
So, my plan was:
Remove the top and side panels, replace with screen
Seal any wood, as well as any seams
Build some kind of "tray" in the bottom to hold soil and plants
Seems simple enough, let's go!



STEP THREE: VENTILATION
The first thing I did was remove the side panels of glass. Chameleons require ample ventilation so adding more screen was necessary.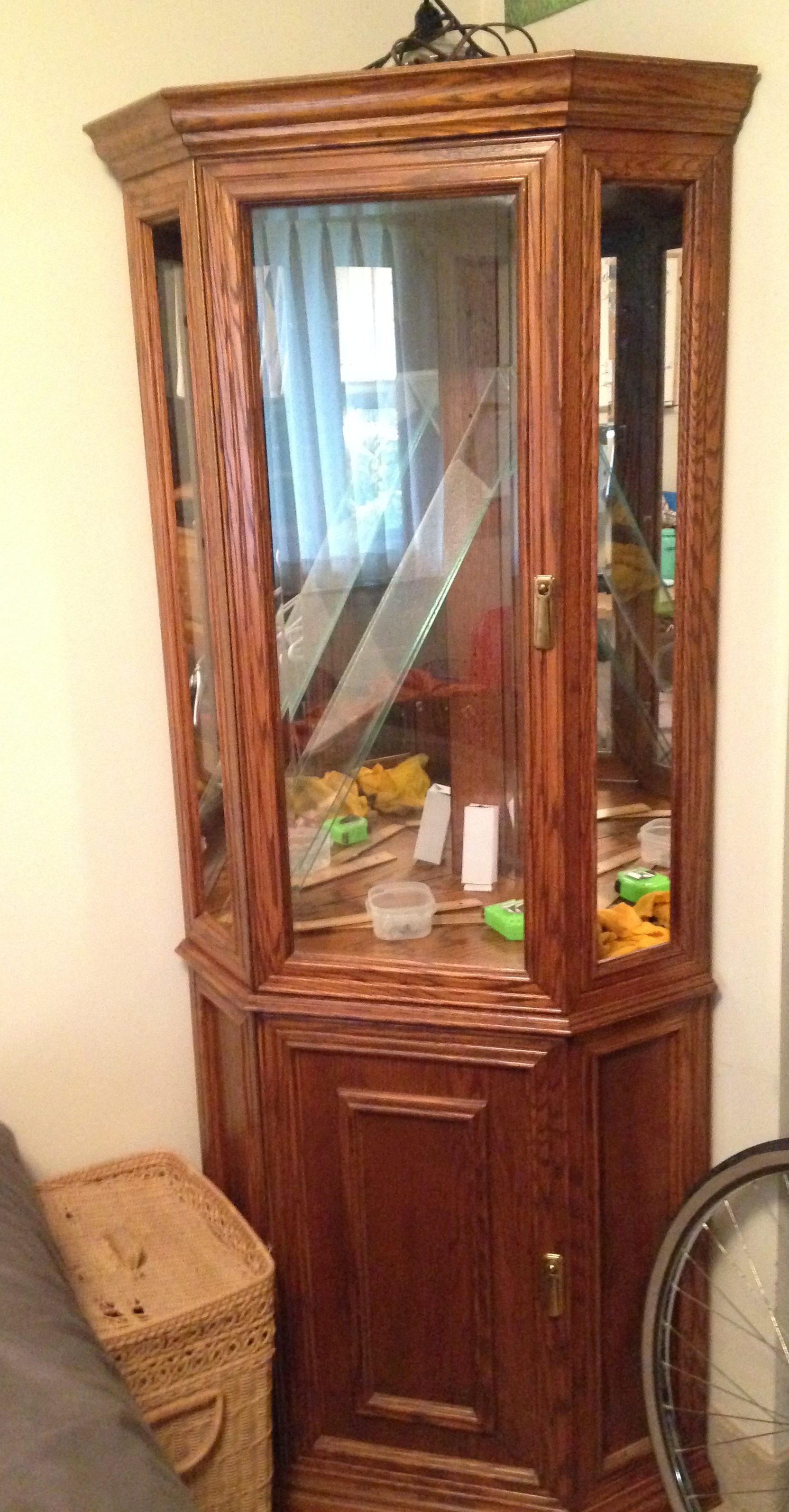 The top also needed to be removed. This accomplished two things:
Increased ventilation
Provided an area for a lighting system to function properly
As you can see, the top was solid wood. I used a Reciprocating Saw to cut it our completely.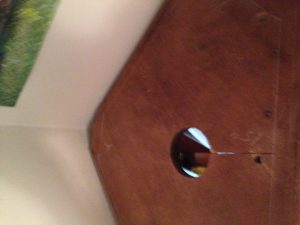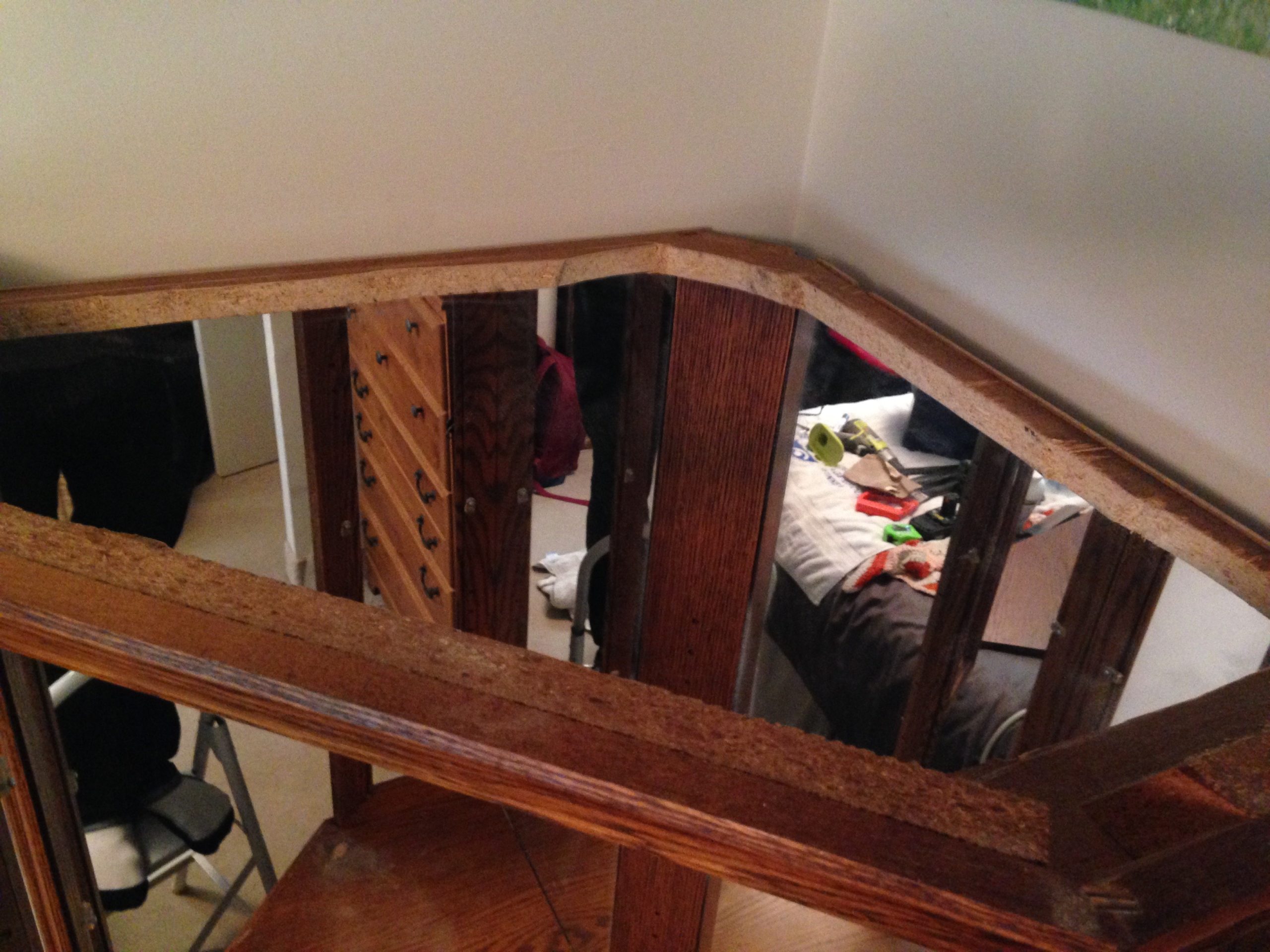 I went to Home Depot and bought metal mesh screen and screen frame. I used the "tabs" that held the glass panel in to secure the screen frame to the cabinet.
On one side of the cabinet I included a "hand door," pictured below. Hand doors are handy (sorry)… but they are! Especially if the main door is very large like the one on this cabinet. It is very convenient to be able to open a small door for feeding, misting, etc., rather than opening the entire front of the vivarium (especially if you are keeping flighty animals).
I don't have a great picture of it but I also stapled screen to the top as well.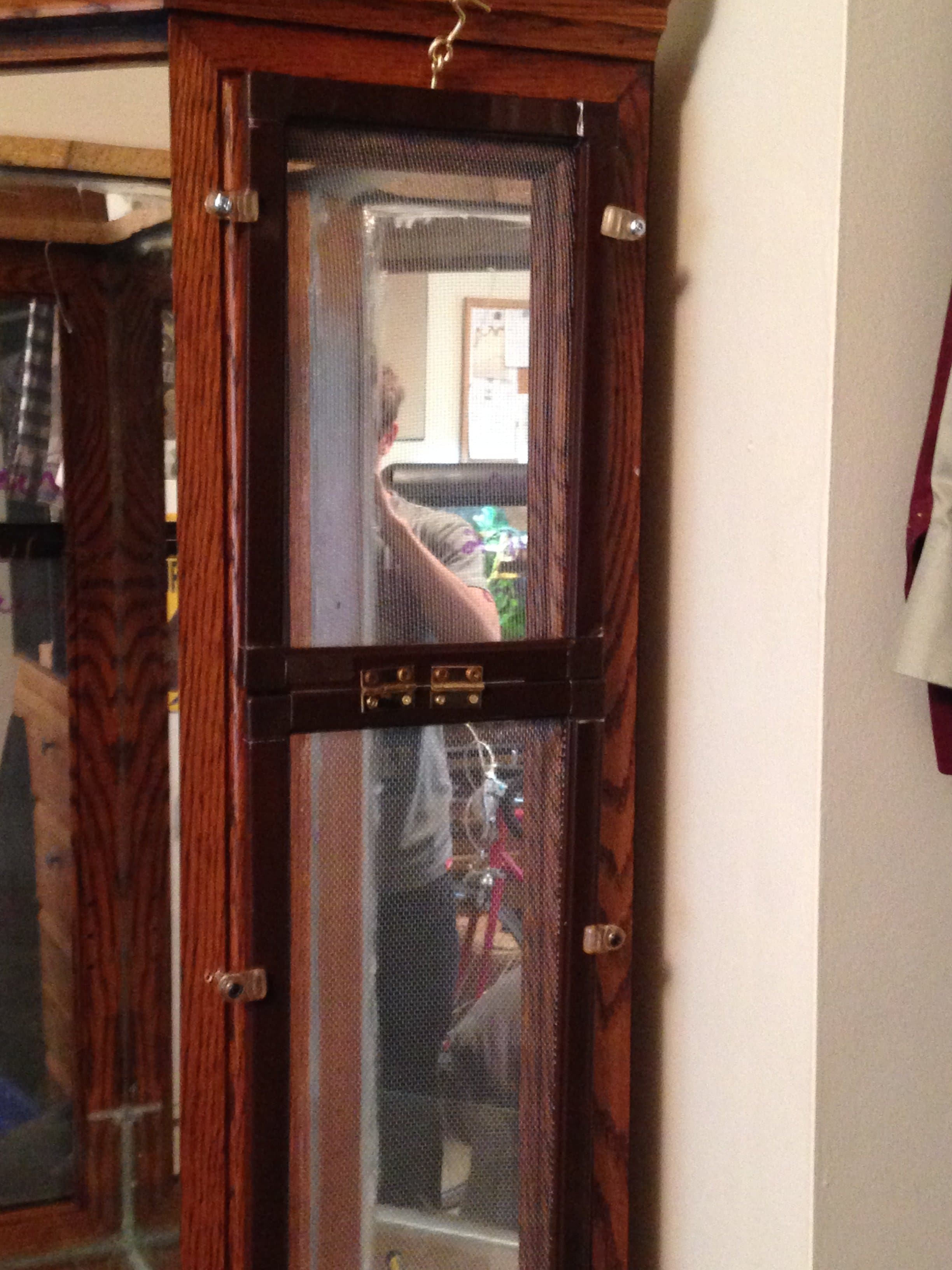 STEP FOUR: SEAL!
Next on the agenda was sealing the china cabinet up to protect it from moisture damage.  First I used GE 100% Silicone I (make sure you use GE Silicone I, not II. Scroll to step 4 HERE to read why), to seal any of the seams in the cabinet.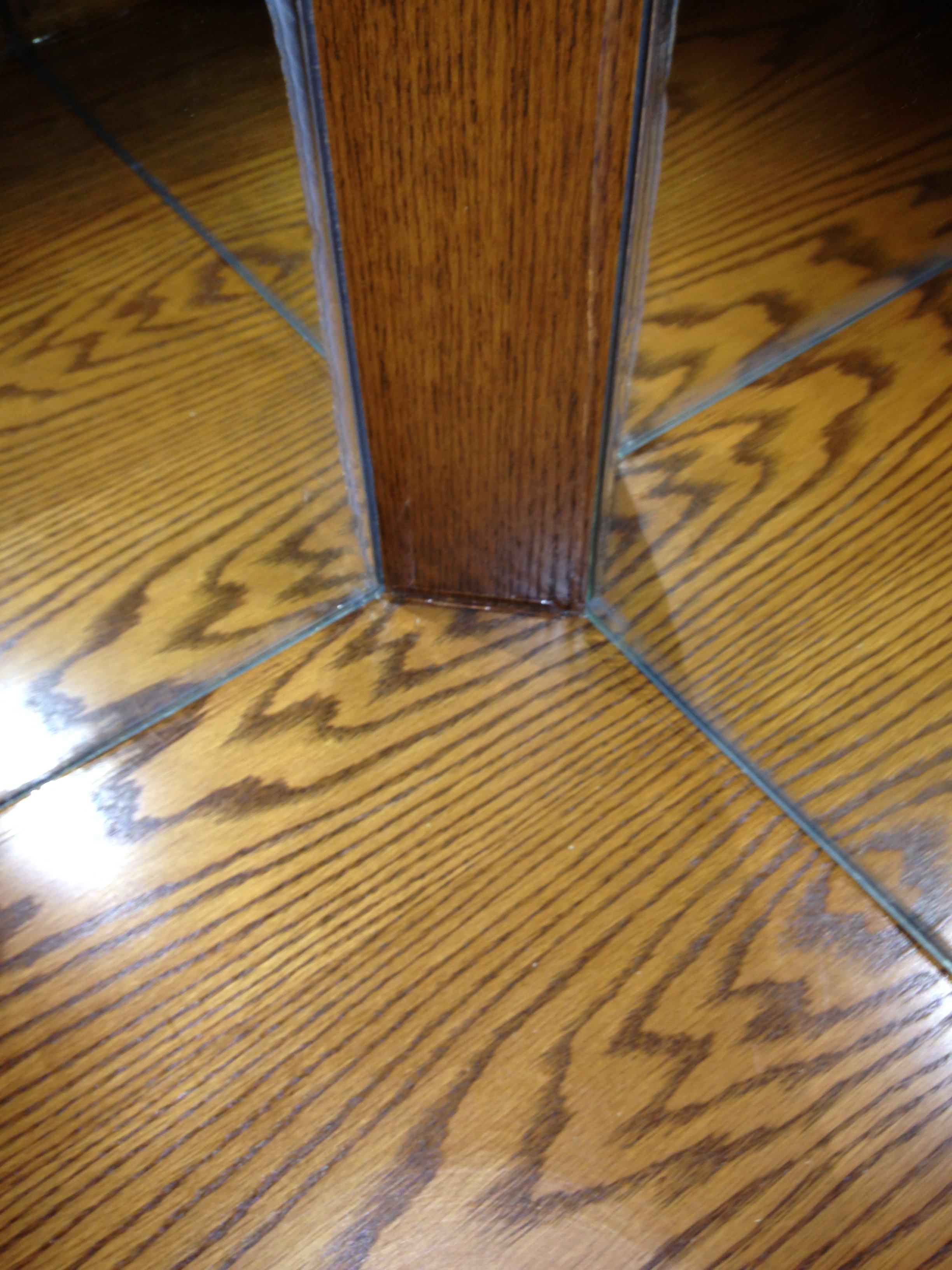 It was also necessary to seal any exposed wood. Keep in mind, the two major walls of the cabinet are actually mirror. This was great because it really reduced the amount of wood in the vivarium to pretty much just the door frames.
I used MINWAX Polycrylic to do this. It is water based and paints on very easy. Plus, once dry it is perfectly safe for your animals!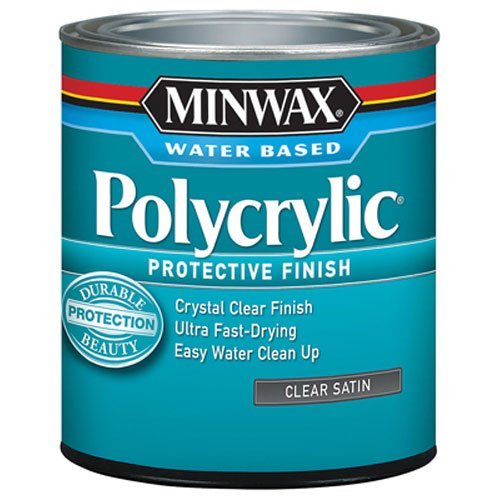 STEP FIVE: PLANT TRAY
The second last piece of the "diy chameleon cage" puzzle was building a tray to allow the vivarium to hold soil and live plants. This was my favorite part of the build!
The china cabinet came with glass shelves. I used one of these glass shelves as the base of the tray. Then, remember the glass panels I removed at the beginning? Well I took that glass, cut it to size and used silicone to secured it to the base to form "walls' for the tray. It worked perfectly!
I let it cure for 24 hours and the filled it with water to ensure their were no leaks. There weren't!
I found the glass edges to be a little sharp so I cover them with pipe insulation.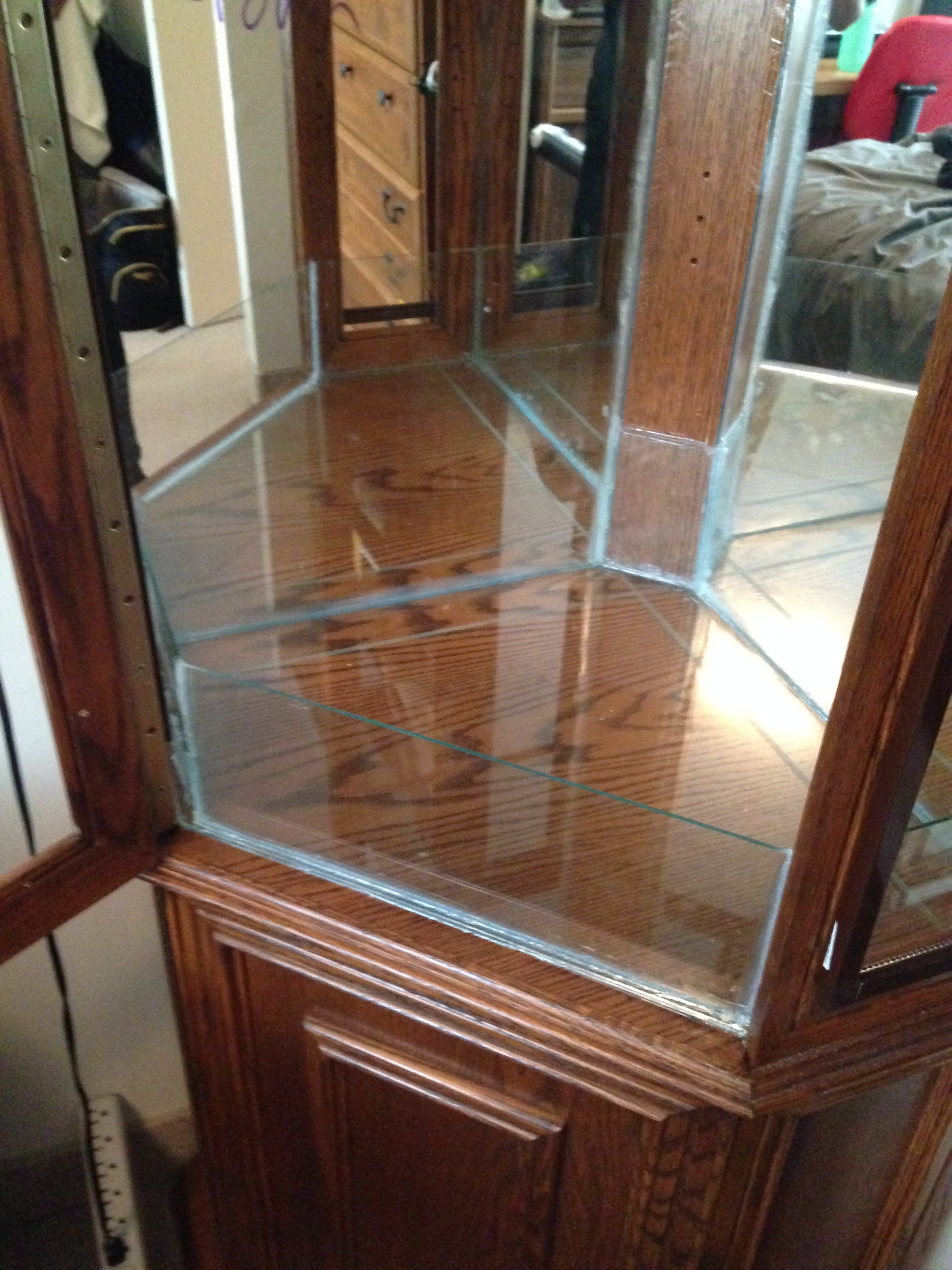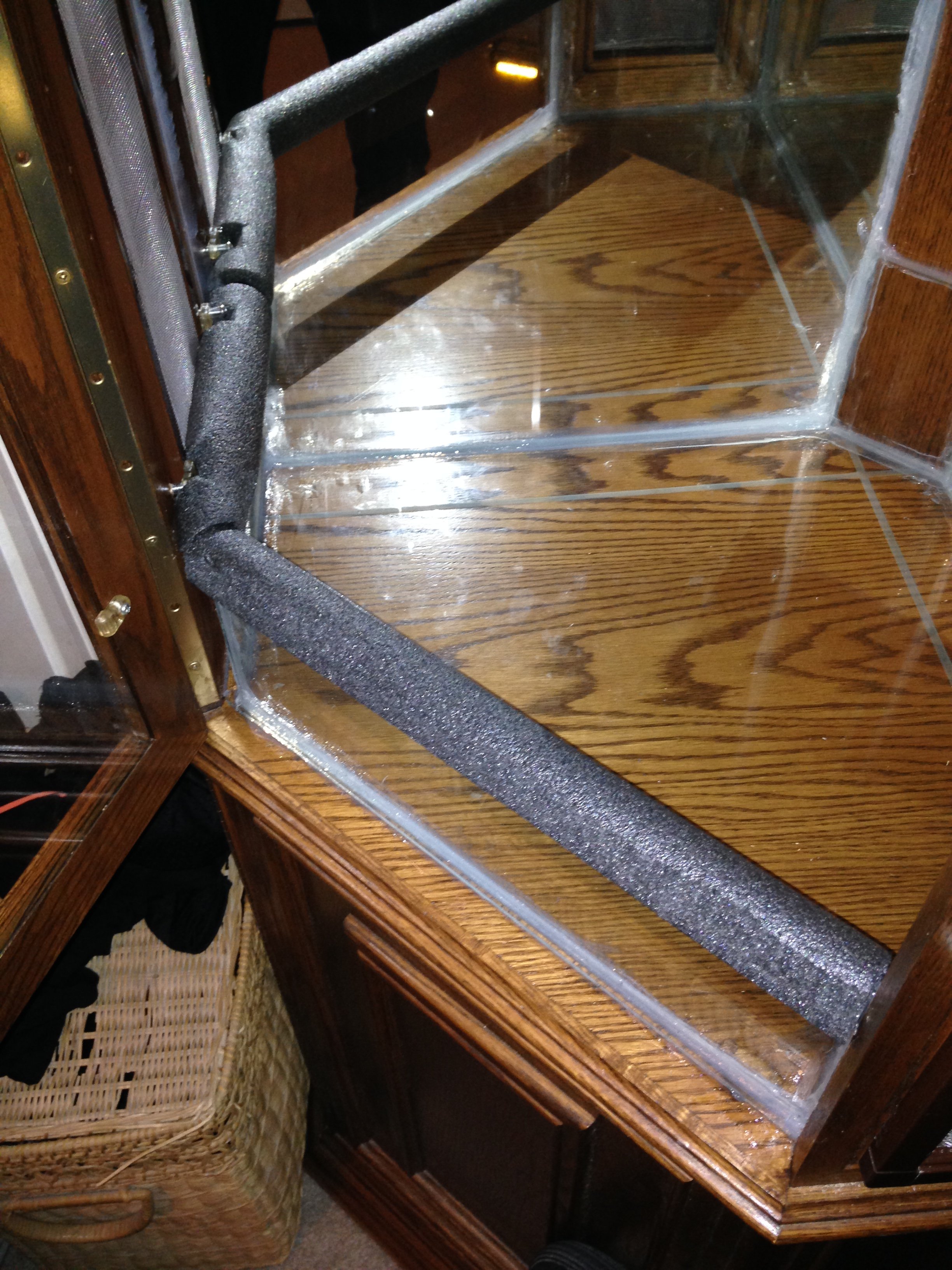 STEP SIX: BACKGROUND AND SET UP- DIY CHAMELEON CAGE
The last thing left to do before planting the vivarium was covering the mirror's. As I said above the two large back walls of the vivarium were mirrors. This was good news and bad news. The good news was mirror's are obviously made of glass meaning water damage wouldn't be an issue. The bad news was it needed to be covered because it looked weird.
I went to staples and bought Quartet Cork Roll. It was inexpensive and worked great. I just glued it to the mirror using the silicone and was all set. The cork provided a more natural look to the vivarium's background and is durable enough to handle moisture.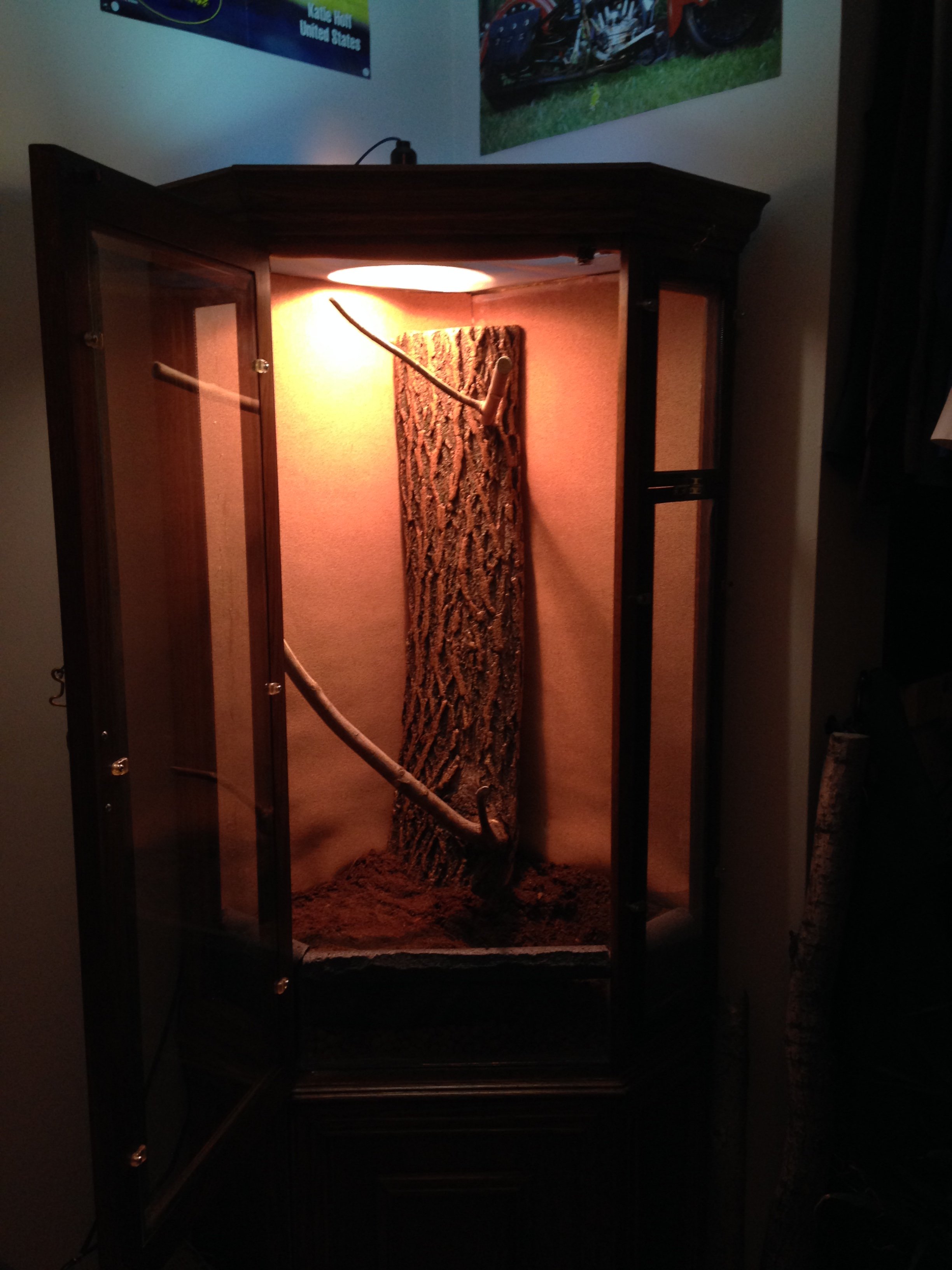 Then it was time to add soil, plants and decor!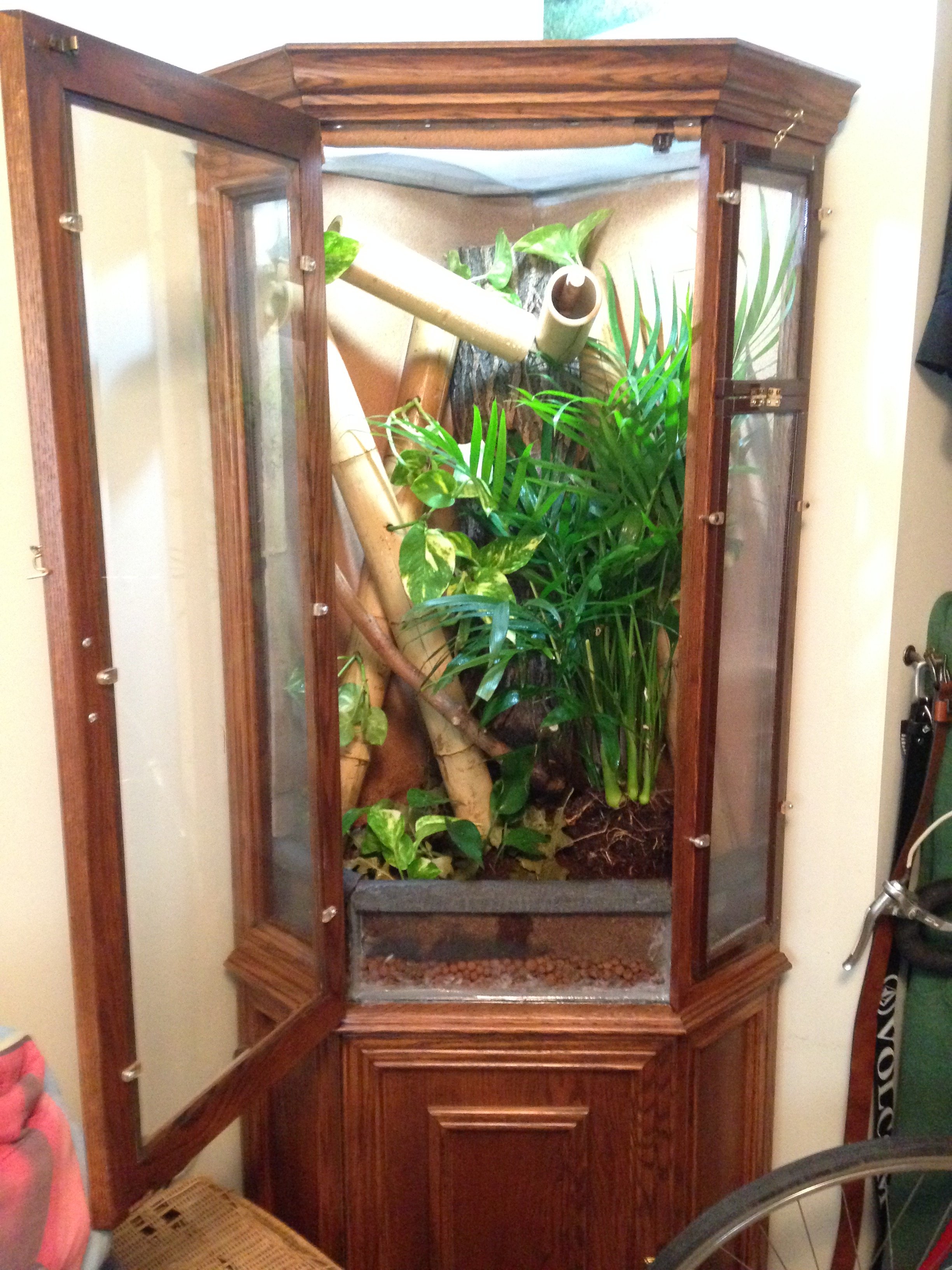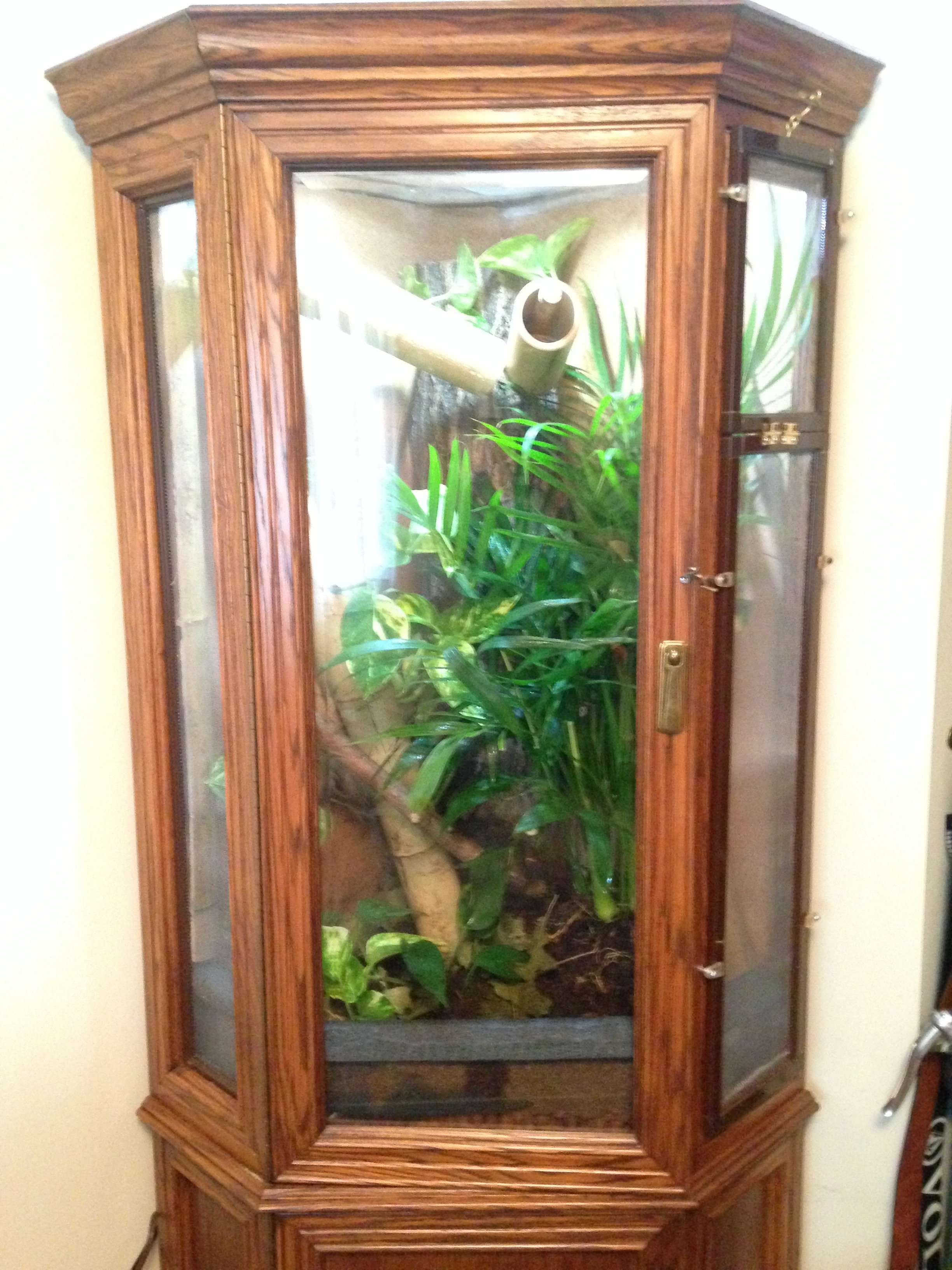 To plant the vivarium, I used:
Before it was sold, I swapped out some of the plants shown below: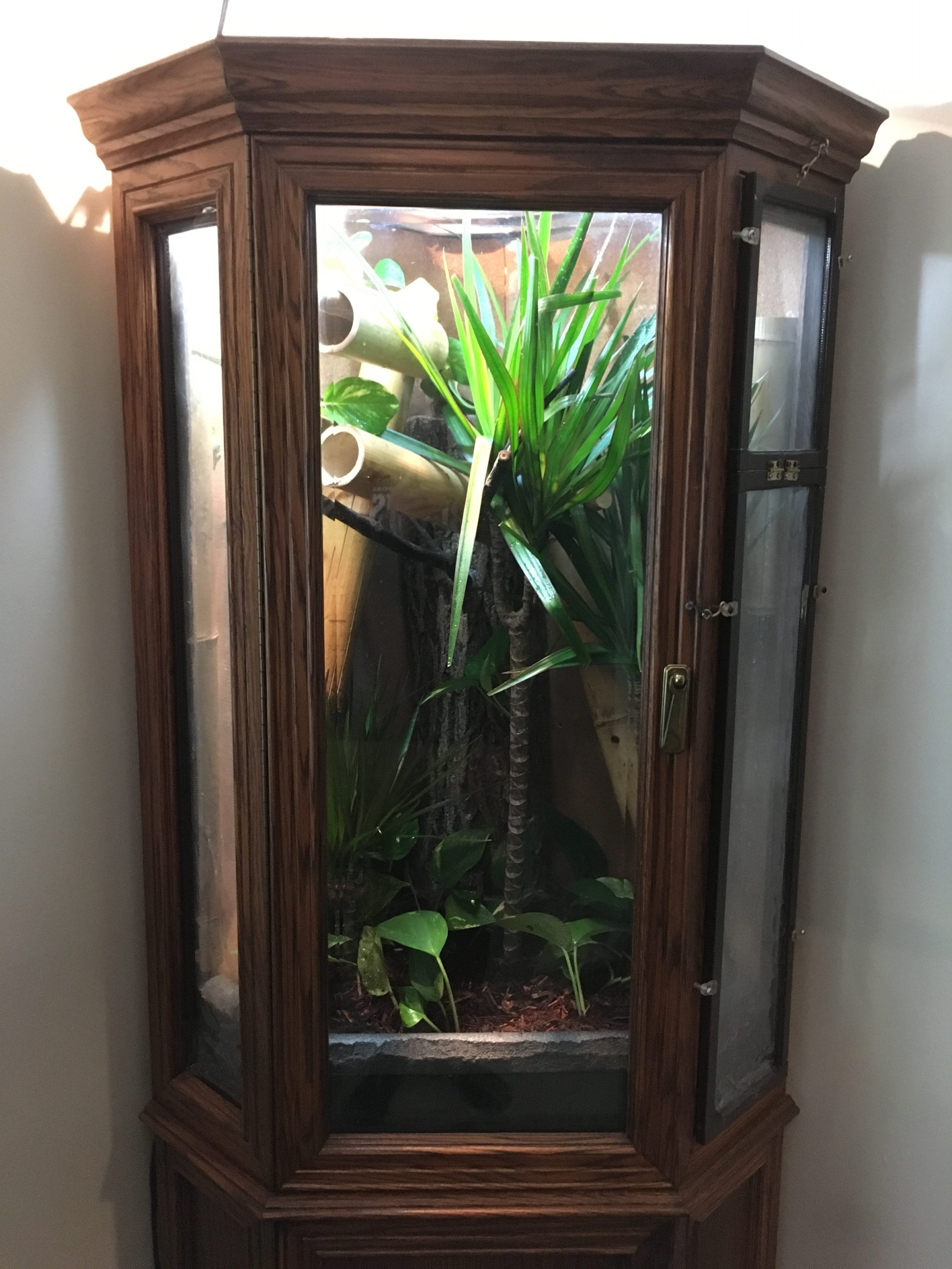 This was a really fun project to work on and fairly simple to do! Again, the project was intended for chameleons but I was able to keep my giant day gecko in it for a few months before I sold it.
I encourage you to go out, find a piece of furniture and do a diy project of your own! Always remember the animal's safety is priority number one!
Material List:
China Cabinet
Screen
Screen Frame