If you have a passion for animals, then you are going to love this podcast! This show brings all members of the animal community, from pet hobbyists to wildlife experts, together under one roof to discuss anything and everything animal related. Listen to experts talk about reptiles, mammals, fish, birds and everything in between with the topics ranging from breeding, pet husbandry, scientific research, wildlife conservation and more! Dillon Perron, the podcast's host, is also the creator of the blog and YouTube Channel, Animals at Home.
What's the Show About?
If you are looking for a reptile podcast to listen to than The Animals at Home Podcast is what you are looking for. Dillon Perron, the host, and creator interviews a diverse range of animal and reptile experts. The show has a tilt towards reptiles and the reptile hobby but Dillon makes it clear that this is an animal podcast, not just a reptile podcast. Guests will and have been featured from many different areas of expertise.
For more information on Dillon, check out the first episode:
Each episode runs about 60 mins in length. Within the hour, you can expect to not only learn fascinating facts about reptiles, but you will also learn the stories behind those who work with animals, whether that be on a hobbyist or academic basis.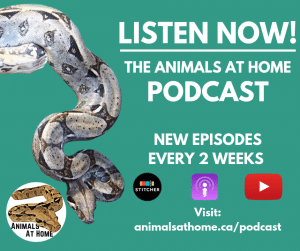 How to Listen:
The Animals at Home Podcast is quickly becoming one of the most popular reptile podcasts available and it can be streamed and downloaded in a number of ways:
If you are someone that likes to listen to podcasts on your way to work, then choose your favorite podcasting app to listen to the show!
If you'd like to watch the video version of the show, then check out The Animals at Home YouTube Channel:
Why Listen to this Reptile Podcast?
Besides the interesting content and guests featured on The Animals at Home Podcast, there is even a better reason to engage in the content!
Animals at Home is an Offical Sponsor of The Amazon Rainforest Conservancy (A.R.C).  This means a portion of the profits generated by the Animals at Home Podcast, Youtube Channel and Blog is donated to the charity with the goal of protecting the Amazon rainforest.
Just by listening to the show, you are helping conserve the Amazon Rainforest. For more information on how it all works, visit: https://www.animalsathome.ca/save-the-rainforest/
Make sure you check out the episode of the podcast featuring the Founder of A.R.C, Jana Bell: