Below is a short profile of each Boa constrictor I currently own.  Click the "Genealogy" of "Care Log Book" buttons below each animal profile for further detail regarding their history as well as up to date health and growth information.
BEWARE… the information in provided on the Genealogy and Care Log Book pages is 100% more information than you'll ever want to know about my particular animals. I am very meticulous with my record keeping, and those page are more for me than you.  Of course you are welcome to poke through it, but click at your own risk 🙂
Below the profiles are any articles I have written that are about or are related to the boas.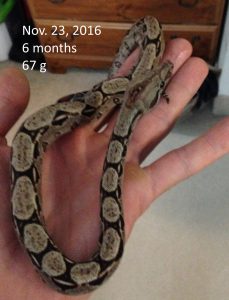 Species: Boa Constrictor Imperator

Locality: Colombian/Sonoran

Genetics: 66% Het. Leopard (potentially carries Orange Pastel gene)

Birth date: June, 09 2015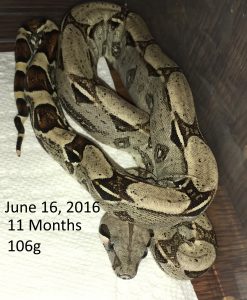 Species: Boa Constrictor Imperator

Locality: Unknown (rescue)

Genetics: 100% Het. Kahl Albino

Birth date: July, 02 2015